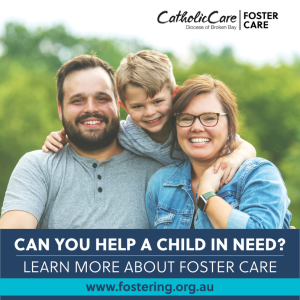 It's Foster Care Week
CAN YOU HELP A CHILD IN NEED? 
There are children in our community who, without our help will go through childhood without the love and support of a family. These children have the same needs as your children – love, care, safety and consistency. Somewhere to belong. 
We are looking for everyday families who might consider taking a child or young person into their home – to love and support them whether for one or two nights, a few weeks, months, or as permanent carers.  
If foster care is something you have considered, you might like to join us to find out more at one of our online information sessions. 
Monday 31 October 7.00 – 8.00pm OR Thursday 24 November 7.00 – 8.00pm
CatholicCare foster carers receive a financial allowance to assist with the day-to-day needs of the child/young person, comprehensive ongoing training, a dedicated case manager and 24/7 support. We are with you every step of the way.  
Please visit www.fostering.org.au where you will find a simple eligibility tool and details of our upcoming information sessions. You can also call us on (02) 9481 2600 and chat to Sandra.  
This week we share with you some new Safeguarding information and activities for you to take part in and explore with your families.
Week Three