Background
St Patrick's School is part of the Diocesan School system of the Diocese of Broken Bay.
A small co-educational school with approximately 240 children enrolled from Kindergarten to Year 6, St Patrick's is nestled in the beautiful leafy suburb of Asquith, NSW, Australia.
Vision
We, the faith-filled community of St Patrick's Catholic Primary School Asquith commit ourselves to:
Living Catholic Discipleship by embracing the values of respect, dignity, forgiveness and tolerance. 

Providing excellence in teaching and learning by encouraging students to reach their full potential.

Encouraging a strong community spirit with the inclusion of the Parish and parental involvement.
Mission
At St. Patrick's, we proudly focus on developing the whole child, integrating academic success, striving to provide diverse opportunities and supporting children through their journey of faith. We inspire to provide quality learning where each child is known, valued and cared for through our commitment of a welcoming and loving community that underpins each family's presence. 
School Motto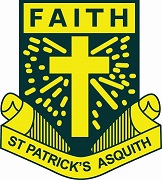 Our school is proud to be named after St Patrick of Ireland. St Patrick was an exceptional mediator, a person of great wisdom, inspiration, patience and above all, a person of great Faith: Our Catholic School's motto.
School Prayer
God our Father, with Faith we pray,
Bless and guide us through this day.
Jesus, Lord with Hope we pray,
Help us in our work and play.
Holy Spirit with Love we pray,
Let us be kind to each other today.
Amen.