Is your child getting ready for school in 2022?
LEAP Playgroups available for all preschoolers starting school in 2022.
Research shows that children who attend play-based sessions during early childhood have significantly better development when they start school and that the benefit of opportunities such as LEAP are seen across all areas of development as measured by the Australian Early Development Census (AEDC).
Designed by teachers to help your child with their own learning as they become school ready, our 'LEAP @ Home' program offers families continued engagement and opportunity to build connections with the school community as your child prepares for Kindergarten 2022.
The LEAP Program offers play -based sessions designed to support:

early concepts of literacy and numeracy
oral language development'
the development of the child's disposition to learning
the parent's role in supporting their child's learning.
We use play and active learning to open young minds, develop skills, and foster a love of learning.
We seek to spark the curiosity of early learners as they journey towards starting school.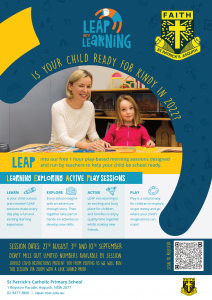 We invite you and your child to use our free LEAP @ home materials designed by teachers to help your child as they become school ready.
See below a list of Leap @ Home activities as well as how to register:
Session 1 – Friday 27th August – Reading and Retelling – Book Loving Bears
Session 2 – Friday 3rd September – Mathematics – Patterns, Puzzles and Numbers
Session 3 – Friday 10th September – Science – Explore and Experiment
All sessions will begin at 9.30am
Updated dates for Term 4 will also be added later in Term 3.
Please use the link below to register.
Register here